A little over three weeks ago there was the seizure of 60+ horses in Many, LA.  After asking numerous times as to the status of criminal charges and being told that no one knows the status I decided to call the District Attorney's office myself.  I spoke with Don M. Burkett, District Attorney for the 11th Judicial District Court.  Mr. Burkett informed that "to date there were no charges filed" and there was no court date scheduled.  He informed me that usually a formal investigation is performed by the sheriff's department or state police but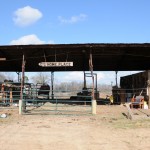 this matter is primarily being handled by the Sabine County Humane Society and volunteers who are now putting the information together.  He further told me that LSU Vet School is preparing an individual report on each animal and he does not have those reports yet.  When he gets all the information he will make a decision as to how he is going to proceed.  Anything less than a capital offense he will most likely file a bill of information but he has not made a definite decision not to put it in front of a grand jury first.
Mr. Burkett went on to say that once it is determined what the charges are and if they intend to file a bill of information, Mr. Ford will be notified to come to court for arraignment, at which time he will probably plead not guilty.  Depending on what grade of felony or misdemeanor he is charged with would determine how fast this matter went to trial.  If the charges are misdemeanors Mr. Ford will be in court relatively soon if the charges are felonies he could not say when Mr. Ford would be in court.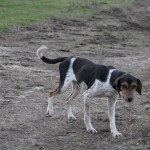 When ask how he thought he would charge Mr. Ford, I was told that the law says that there can be a separate count on each animal but he is not going to try to just generate a lot of paper work.  "I may group the charges by severity."  Mr. Burkett also told me that the main focus has been on the horses but there were dogs, some who were dead, and other livestock on the property, which he also must take into consideration.
Mr. Burkett says he has given a lot of thought to this matter, but doesn't have the files needed to proceed.  He further indicated that Mr. Kelly, from the Sabine Humane Society, was in his office yesterday and that Mr. Kelly "appeared to be a rather prompt kind of a guy" and would be diligent in his follow-ups.
During our conversation Mr. Burkett also indicated that he had received a number of calls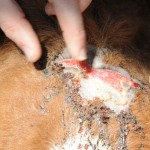 on this matter; even a call from a Senator whose conversation went to the argument of outlawing the slaughtering of horses, comment being these horses could have gone to slaughter.  Some see this situation as the platform for legalizing horse slaughter houses.
Mr. Burkett further stated that this situation was not exclusive to Many, Louisiana and said that he has heard of people around the United States, who due to economic reasons are just opening their gates and letting their horses go, he has also heard that research centers are having to lock all gates and entrances to cotton, hay, and other fields to keep people from opening those gates and dropping off their horses.
Mr. Burkett went on to say that slaughtering horses is horrible but when the market condition is like it is today what do you do?  He further stated, "this guy, Mr. Ford, was in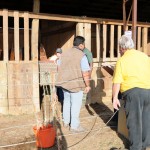 the business of the construction of lake houses and wharfs and one day he went to an auction bought a horse made some money and then decided to go into the horse business.  It is his understanding that a lot of the horses were not owned by Mr. Kelly but were there to be trained by Mr. Ford's trainer", William (Bill) Young.  Mr. Burke then said "he did have a licensed trainer and "we will need to take a look at him, also."  He then went on to say that the LA Training Commission will probably yank his license and it's not like Mr. Ford had some high dollar horses and people weren't lining up to buy the colts.
Mr. Burkett stated that he "doesn't think he (Mr. Ford) went into it with the intention of just breeding."  We ended our conversation with Mr. Burkett saying he will take the evidence he receives and will apply the facts to the law as they apply.  He has no preconceived feelings or ideas and will wait for the facts.
With all of that said, I have asked the rescue associations and the persons fostering the Many 60 if they have heard from Mr. Burkett and the answer was a very loud "NO".  Mr. Kelly of the Sabine County Animal Shelter has been in touch with the Louisiana Horse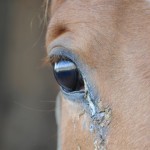 Rescue Association and has requested reports and documentation but the LHRA has not received one call from Mr. Burkett.  Those fostering the Many 60 and LHRA and Remember Me Rescue would like to put a voice to those reports.  The reports do not account for all of the hours of care that these horses are requiring nor do they list all of the monies that are necessary to care of them and future care and considerations are not addressed.
Throughout the last number of weeks I have spoken with, received e-mails and received facebook messages regarding the Many 60.  There have been comments in support of and against the Sabine County Animal Shelter.  There has been one area where all are in agreement and that is everyone feels the District Attorney will let this matter fall through the cracks and that Mr. Ford will not pay for his actions.