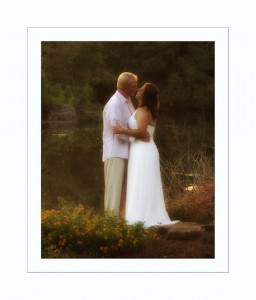 Your wedding day is one of the most important days of your life.  You've dreamed it, anticipate it, and you are now planning it.  CAThreadgill Photography will catch all the special moments throughout the day.
CAThreadgill Photography believes that each wedding is an individual's story book and that no two are alike; therefore we design your wedding package especially for you.  We encourage both bride and groom to help us write the story.  We will work as a team to design your package to fit within your budget.
We offer the traditional wedding album which has the bride and/or groom in every picture or you may want to order our "Wedding Day Memory Book" which celebrates the entire day and your family and guests.  The memory book includes your traditional wedding pictures and will be full of candid shots that capture the other memories from the rehearsal dinner until the bride and groom depart for their honeymoon.   You will want to see and remember the look on the bride's parents as they watch their little girl dance the first dance with her new husband and the groom's parents looking lovingly into each others' eyes and knowing that they had raised a fine young man.  And let's not forget the fun times starting at the rehearsal dinner and ending with the bride and groom departing in a hail of birdseed.
We also offer coverage at different locations.  These locations can be where you first met, where he proposed, or any location that is special to both of you.  These pictures can be taken before the wedding day if time is going to be a factor or in between the ceremony and reception.