On January 8, 2012 I posted my first photo journalism article regarding the Horse Seizure in Many,Louisiana and since that time there has been an outcry of emotions.  Comments have been made supporting the efforts and all those involved and comments pointing fingers.  These comments, both positive and negative left me with questions and I decided that I needed to follow up with these horses and issues.
This follow up like the original article was supposed to be short and simple; well what did I know.  Due to the length I have decided to post the follow-up in sections and I am going to start with the horses that remained in the Many, LA area themselves.  As of Saturday, January 22, 2007, there were four horses with the Sabine County Humane Society, one horse with Jan Tatum, in Many LA, one horse with Anita Walker in Many, LA, two horses with a Mr. OC Charles, inNatchitoches,LA.  The horses that are at LHR and RMR will be talked about later.
I started out by visiting with Mary Brocato's farm where four of the horses were being kept for the Sabine County Humane Society.  Two of these horses had been fostered out and after about a week they were picked up and taken to Ms. Brocato's farm.  With good intentions, individuals are volunteering to care for the horses not totally understanding their conditions and the care they need.  Without having the proper nutrition, for who knows how long, all of these horses have to have their feedings monitored along with their water intake.  These four horses are showing signs of healing
and are beginning to show their personalities; this one thought that if he went down he would get more attention, it worked the first time.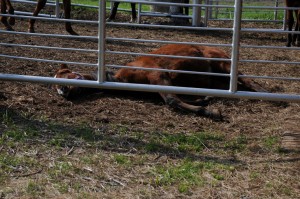 These four are now at Remember Me Rescue and looking forward to a new beginning.
Next stop Mary and Allen Kelly – Old River Farm.  When I arrived at Old River Farm I was introduced to the 4-H Club that was there.  Today's lesson was on the body conditioning scoring chart and what to do if there are animals that are not being cared for properly.  Mary had done her homework and had printouts and pictures for the children, she also used the horses which are in her care from the Many 60 as live examples.  None of these horses should have had to go through what they did but their ordeal is now being used as a learning tool at Old River Farm.  These children and their parents were very interested in all of the horses and where they were.
We discussed the worst of the worst and the hopes for all of these horses' futures. These four horses are doing much better; their diet is being closely monitored.  They are receiving regular feedings, water, exercise and the love and attention that these precious animals desire.  These children will be following their care and will be a part of their recovery.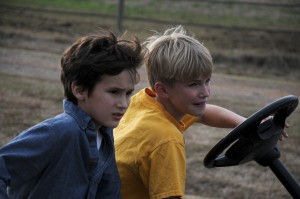 After my meeting with the children Mary, Allen and I walked down to the barn.  We discussed the future of these horses and all the other horses, there seems to still be some questions about some of the horses identity, but through microchips this should eventually get straightened out.  Mary and Allen's concern were those that I had previously heard by others, with the drought and the cost of hay rising is this the first of many more seizures to come.  We also discussed the cost of fostering or adopting these sixty, right now there are vet bills and special feedings and the time.
Anyone who is thinking about adopting or fostering will need to make a time and financial commitment but from what I have seen so far the amount of love that you will receive in return will be so worth it.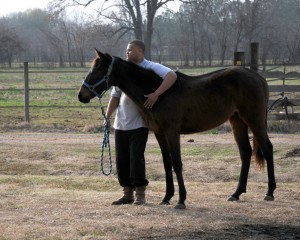 The last stop of this weekend was at Anita Walker's place.  Anita's daughter, Carmen, and I spent a lot of time together two weeks ago and both fell in love with Baby Hope.  Baby Hope was so shy when I first meet her; she stood in the corner of her stall and didn't want anything to do with any human being.  It was originally thought that Baby Hope was three months old and now I find out that she is actually seven months old, she is just so small for her age.  Today, you could still see her shyness but she walked on a lead, would let you hug her and you can see that she will be a little heart breaker as she heals.
This is us trying to get Baby Hope out of her stall two weeks ago.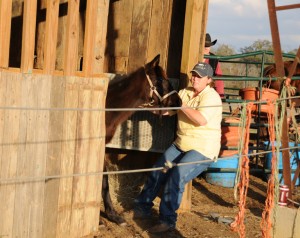 And this is Baby Hope today.
Baby Hope has some issues that keep her questionable for a full recovery.  This poor baby has lots of stomach ulcers and a hernia.  Her feedings must be monitored very closely along with her water intake and her urination.  She will probably need surgery as soon as her strength improves.  Anita would like to thank the Many Walmart; she went in with Baby Hopes first prescription and was informed that this prescription in liquid form would cost $1,000 but if she got the pill, crushed them up and added Karo syrup it would only cost $100.  Anita opted for the pills and while the prescription was being filled the pharmacy ask if this was for one of the Many 60 and she told them yes Baby Hope was a Many 60.  When the prescription was completed the pharmacist told her that Walmart would pick up this script.
Unfortunately, I was unable to make it over to Jan Tatum's place but I was able to talk to her on the phone.  She is fostering a big 5 year old Gray, Old Stonewalls Cowboy, who is 17 hands tall.
This gray doesn't have a lot of body fat like the rest of the Jan's horses but is now getting some Alfalfa cubes mixed in with the hay.  Jan told me that originally she and her husband had said they would just foster until other arrangements could be made but now they have fallen in love.  During the past two weeks Jan's niece has come over almost every day and spent the weekend to have more time with Cowboy.
Jan said when she hollers his name "he knickers back at me".  They are also working daily on his muscle tone.    Jan was able to get some hay donated from friends and family, on short notice, that she would like to thank.
Mr. OC Charles who resides in Natchitoches, was at at the seizure and he has two of the Many 60 in his possession.  I have left Mr. Charles a message and will post a follow up on these two when I hear back from him.
I have spoken with many people about this seizure and the one common concern is the fear that this seizure, of this size, is the first of many to come.  With the drought and the rising cost of hay will other breeders and owners face financial hardships and will their horses suffer?  I have contacted and received information from, Mary Borcato who is on the Board of Directors of  the Sabine Humane Society, Dr. Mirza of LSU Veterinary School, Mr. Burke the District Attorney for the 11th Judicial District in Louisiana, Remember Me Rescue and Louisiana Horse Rescue and information from these contacts and interviews will be posted every couple of days throughout the next week.  Please check back in a couple of days for the next follow-up.